I've spent the last three days in The Mile High City or the Queen City of the Plains or Wall Street of the West. Thank you Wikipedia.
Turns out I'm getting out just in time. Taylor Swift and the New York Yankees have converged on Denver. There are sequins and pinstripes everywhere.
At any rate, I was here on a business trip, getting the chance to meet with people who do what I do for a living, or as someone described it at this summit, the digital junk drawer. From the business side, it was a great trip, I learned a ton, exchanged ideas and feel rejuvenated and inspired. Just what the doctor ordered. Also, I learned that my agency is doing pretty dang good all in all. It's nice to get validation that you're on the right path.
I did a fair amount of walking since my accommodations are about a 35 minute walk through downtown to the Colorado University – Denver campus. On my daily walks I took in the sights of the city. It got me thinking about the homogeneity of modern cities and I paused to wonder about the homogeneity of the small towns. I don't think they're that far removed. People see an aesthetic they like, or a design that has practical value and carry it with them wherever their journeys take them. Inevitably those things–ideas or memes, if you will–take root and sprout elsewhere. Toss in a global society like we have now and inevitably you start to see this effect everywhere. I blame Pinterest.
Here's a solid write-up on the modern incarnation of this phenomenon. It's interesting that the styles we lament losing, were brought from somewhere else and reflect the cultures that brought them (and the building materials at hand). In some ways, it seems that the further along we get as a sovereign nation, the further we get from our glorious REVOLUTION, the more we reveal what this grand experiment, this glorious republic really is at its core: A merchant machine designed to squeeze the most out of the least.
Alright, that got pretty dark. Here's a cool shot from 2500 Walnut St. where old architecture meets new. And old architecture has been converted into luxury lofts. But the picture is realllly cool. And gourmet hot dogs. Don't forget those.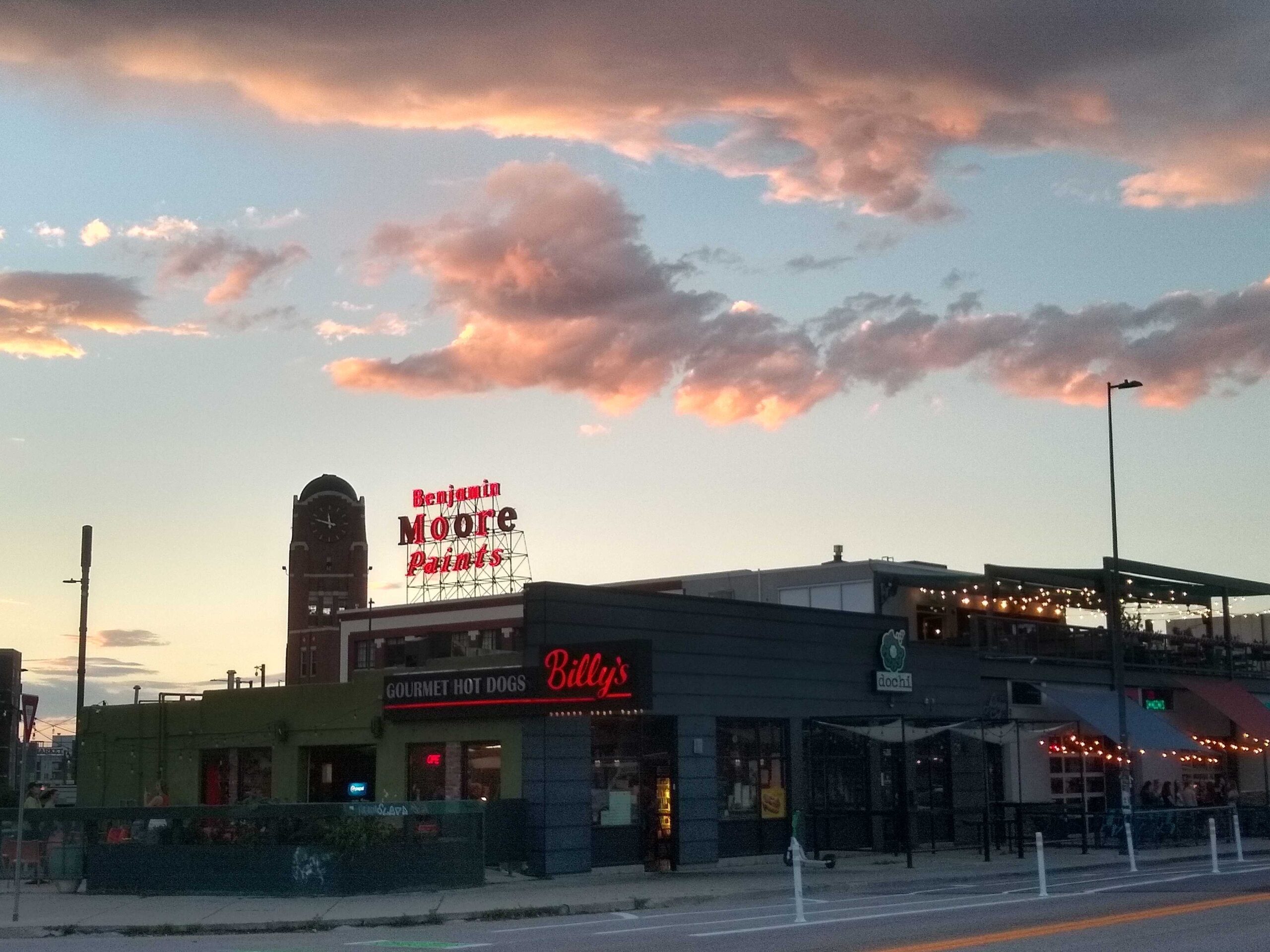 I confess, I don't love that I could be in Indianapolis or Denver or Harrisburg, PA and not tell the difference, but I'm more concerned about the other effects of this kind of development. Call it gentrification if you must, but that's just a nice euphemism for deciding certain segments of our population are expendable and don't deserve consideration.
I don't know that getting worked up about city character is the best use of my energy, when I'm seeing homeless people here in Denver, or where I live in Roanoke, Virginia, or in small cities and towns in West Virginia. Or anywhere that people live. But, it's no coincidence that these things are exploding at the same time.
I hadn't meant to start out writing this particular post, but here we are. I don't know what the solutions are, but I feel like it starts with treating people like people, putting the welfare of people first and foremost. This goes beyond citizen responsibility to our communities. This is about our institutions, our businesses, our municipal governments having the will to put public welfare on the same footing as revitalization, murals, downtown festivals and tourism initiatives.
I'm not sure what the takeaway is here so here's a list of ways to help or educate:
https://www.coalitionforthehomeless.org/what-should-i-do-if/ – NYC focused but applicable everywhere with local organizations
https://icma.org/blog-posts/how-local-governments-can-build-effective-homelessness-system – Tips for local governments
https://placesjournal.org/article/tent-city-america/ – A history of tent cities in the U.S.
https://nickfalvo.ca/what-can-municipalities-do-about-homelessness/ – What can municipalities do?
https://www.homelesshub.ca/toolkit/engaging-and-influencing-government – Alberta, Canada's guide to engaging and influencing government